Chloe Rodham
Newcastle Upon Tyne

,

Northumberland

,

U.K.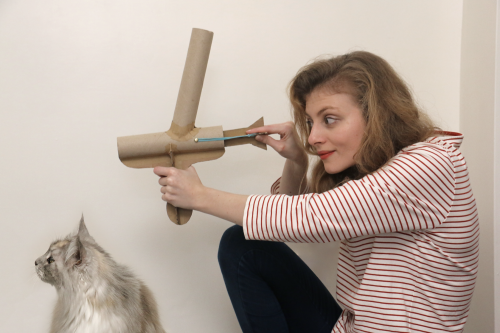 Magnificent maker
5 made real
5 working on
I'm an animator and model-maker based in Northumberland. I combine digital animation techniques with more traditional methods like stop motion. I enjoy sharing my skills with others - I'm an Associate Lecturer at Northumbria University and an animation mentor with TICE - introducing children to what it is like working in creative industries.
Recent project reports
Filming
After the chat with Ruby, I thought it might be interesting to make the film into more of an advert to showcase the invention as a product, so I did a quick thumbnail storyboard (very rough sketches) of what the different shots could be. I'm not too sure how is best to set up the scene to video the characters' jaw movement and take stop motion photographs as I know I will have to mix the two different techniques together when editing. I'm just going to try and get as many photographs and films from lots of different angles so that I've got lots to work with later on. The joys of working from home...my cat has very already been 'helpful' checking that I've got all of the camera settings correct!
Chatting to Ruby
Ruby and I had a great chat about the progress so far - I showed her the puppets and she talked me through her idea for a portable version of the device that you could use out and about. I got to see Ruby's drawing of her ideas for her own prototype too. She's come up with some really good ideas about what materials she could use and also some considerations on how the user might be more comfortable wearing the device. I talked through the next steps of how I'm going to make an animation of the invention and Ruby is going to come up with some ideas of what the two characters might be talking about.
Jaw-O-Meter
Now that the puppets are almost finished, I can get onto the most important bit - adding the Jaw-O-Meter! I've made it green like Ruby's drawing and thought it would probably attach to the face around the ears so have added some straps. Where the teeth wind up - I've made some little wooden cogs to go over the handle. If people wanted to power various different devices with the Jaw-O-Meter I thought it would be sensible to have the mask plug into a main transformer box which the devices would be attached to. This could also show how much power is being generated with some kind of dial or pointer.