Marek Gabrysch
NEWCASTLE

,

TYNE and WEAR

,

U.K.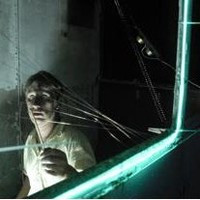 Magnificent maker
2 brought to life
1 working on
Hi, my name is Marek but I answer to Maz. I am a compulsive maker and fixer and I have been making things since I was young. Amongst other things, I have built a telescope, a house, a recording studio, musical instruments, a theremin, a wind turbine, bicycle powered smoothie machine, video rocket and a full sized UFO. And as part of the Star and Shadow II build team, I also built a cinema. In my spare time, I run Fixit Cafe, a loose collection of individuals devoted to preventing landfill and a choir of noisy singers (noizechoir).
Recent project reports
Building the frame
The frame was cut out to accomodate the drums to complete the project the rotating music notes needed to rotate ink keeping with the design however the energy needed to rotate it was more than the air being emitted from the drums so I decided to attach a ratchet to the Hi hat pedal for rotational effect. The music sign was painted onto a drum skin and fixed to a recycled fan motor which acted as a bearing for the rotating sign.
Mounting the turbines
I found away to secure the turbines onto the underside of the drums using spring loaded plate hangers. I used galvanised steel builders strapping to create a bridge mount for the turbines at the correct distance and placement from the hole in the drumskins with a special adaptation for the bass drum using some rope
First thoughts
I thought the turbine could be put to good effect by connecting up all of the drums and feeding all of the air generated to the generator.